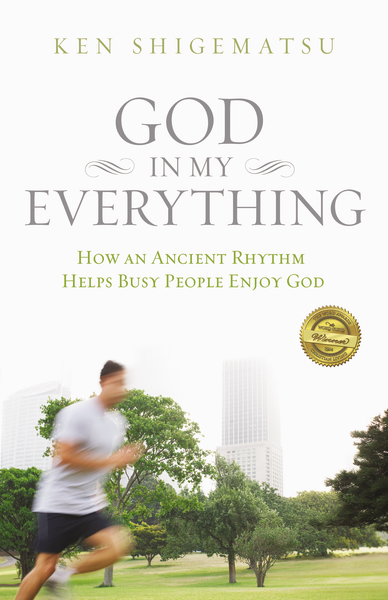 The busier I get, the more I realize how important it is for me to have established routines to fall back on. These routines help to ensure that my priorities are in the right place and make it easier to do the things (like spiritual disciplines) that can get lost in the midst of all of my other activities. So when I was given the opportunity to review
God in My Everything
by Ken Shigematsu, I was excited to read another perspective on the issue of spiritual disciplines.
There were some things that I really appreciated about this book. First, Ken's goal is that his readers would be able to see the Lord in everything that they do. As a rule, our culture is very good at compartmentalization. We do church and God on Sundays or at Bible study or our prayer time, but then we have other segments of life that include work or recreation that we don't let God into. Ken's point is that an awareness of and dependence on God should mark every part of our living. Living an integrated life ought to be a goal for the believer.
Second, there are a variety of examples and ideas for practicing each different spiritual "rhythm". Ken doesn't prescribe a formula that everyone can follow. Rather, he presents ideas from his own life, the lives of others as well as the ancient monks. He does an excellent job of reminding the reader that these rhythms are flexible and dependent on each individual situation. The goal remains the same, but the practice looks different for each person.
Third, I appreciated the completeness of the book. Ken doesn't leave any major areas of life out. He covers everything from Sabbath, prayer and reading, to friends and family, to exercise, recreation, evangelism and work. It was helpful to be reminded of how the Lord should influence all of my life.
However, I had two concerns with this book as well. First, Ken idealizes the monastic habits and systems. While I certainly believe we can learn much from how the ancient monks ordered their lives, I also think there are weaknesses to the systems that they created that Ken completely ignores. For example, when addressing the idea of sexuality, he implies that choosing celibacy is a higher calling that allows someone to have a "unique space for God and others." However, Scripture never makes this claim - both marriage and singleness can be equally honoring to the Lord in different ways. This is just one example of a thread that is woven throughout the book. The monastic life can have an important influence on us; however it was not perfect.
Second, there seems to be a lack of dependence on God in doing these things. Spiritual disciplines can quickly become legalistic burdens. This is certainly not Ken's intention, and that is clear. But rarely does he mention how we are enabled to do these things because of the work of the Spirit and in order to know and proclaim Jesus more fully. While the latter is implied throughout the book, I think both are important to be clear about.
Those concerns aside, I'm thankful that I read
God in My Everything
, simply for the ideas that it offered and the reminder of the value of creating spiritual rhythms. I recommend it to you. If you are interested in more reading about spiritual disciplines, the book that I have found to be most helpful is Donald Whitney's
Spiritual Disciplines for the Christian Life
.
Find
God in My Everything
at:
Amazon
Barnes & Noble